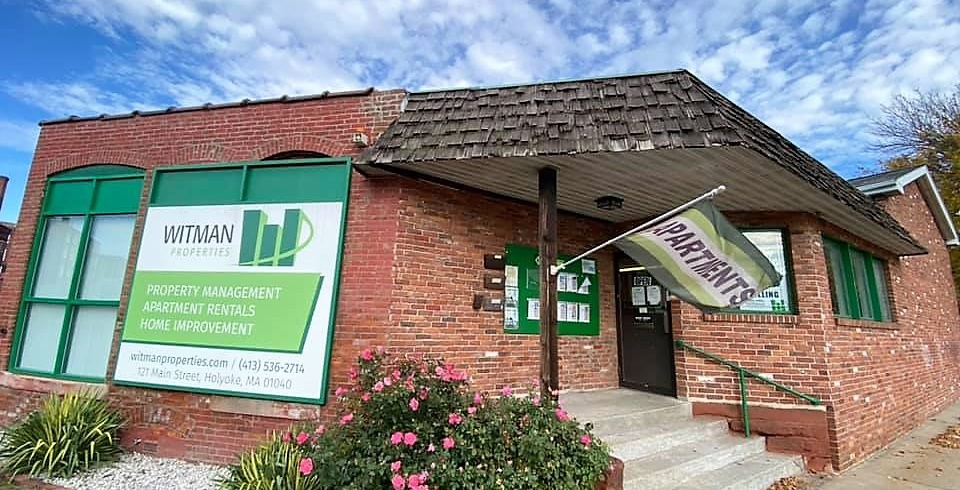 Company Profile
Witman Properties has been serving the Pioneer Valley as a full-service property management company since 2005. We specialize in the ongoing management and maintenance of single family, multi-family, commercial rental properties and vacant properties. Typical services provided include monthly inspections, 24hr on call emergency services, routine lawn mowing, snow plowing, grounds-keeping, apartment leasing, rent collection, home improvement contracting, and handyman services. Our expertise covers a broad spectrum of rentals from low income and subsidized housing developments to large single-family homes. Since 2014 we have served as the city of Springfield's Deputy Tax Title Custodian gaining significant experience in municipal property management.
With a staff of 24 employees we currently manage approximately 500 properties in the Pioneer Valley with a concentration in Greater Springfield MA. We full time have maintenance personnel working daily to provide routine grounds keeping and handyman services throughout the pioneer valley daily. The diversity of our staff's skills and flexibility of scheduling allows us to respond daily to a variety of maintenance needs. Key maintenance technicians work collaboratively to maintain 24-7 emergency on call services.
Since the purchase of our new company headquarters in 2017 we have built out the Pioneer Valley's largest dedicated property management facility. With over 12,000sq ft of office, shop, mechanical and storage space customized for property management we can serve our clients with unparalleled efficiency and reliability.
In 2017 we also introduced a new budget plan pricing program which offers fixed monthly pricing for all year-round grounds keeping needs. This program has been very popular among large landlords and property management companies who subscribe with us for their grounds-keeping and snow removal needs. It allows them to accurately anticipate and budget year round costs for mowing, fall cleanup, snow removal and pruning and litter removal.
Contact Info
121 Main Street
Holyoke, MA 01040
(413) 536-2714
Hours:
Monday – Friday: 8:30 - 4:30
Saturday & Sunday : CLOSED
EST. 2005
History
In 2005 Anthony Witman began providing rental property maintenance services to landlords in the Amherst area primarily in the form of trash cleanouts and lawn mowing services.
While landscaping along side with Philosophical Gardening owner and mentor Scott Hunter, Witman became impressed with Scott's 'customer for life' strategy. Hunter's theory was that by responding quickly to the customers simple and small needs was the best way to insure that he would be their first call for all future work. Building off this principle belief, Witman always ensured availability for same day and next day service for emergencies and small projects.
The promptness of service, availability for new customers and affordable pricing make are services coveted by homeowners and landlords alike.
As the volume of work continued to expand the primary focus of the business became rental property management, property maintenance and landscaping. Witman registered his company as Witman Properties DBA around 2006 and in 2008 Witman Properties DBA became incorporated into a Witman Properties Inc. Today with a staff of over 20 full time employees Witman Properties is able to efficiently manage and maintain over 400 properties throughout Western MA and the Pioneer Valley. Our regular lawn mowing and snow plowing routes include the communities of Springfield, Holyoke, Chicopee, West Springfield, Longmeadow, South Hadley, Amherst, Hadley, Sunderland and Belchertown.
Experience
Since 2005 we have gained experienced in all aspects of residential and commercial property management including tenant-landlord law, State Sanitary Code CRM 4:10, building code as well as local ordinances.
Experienced in all aspects of residential and commercial property management
Since 2010 we have acted as a receiver appointed by the Western Housing Court to take control of blighted properties. Cities in which we have worked under as receiver include Holyoke, Springfield, South Hadley, Chicopee, West Springfield, Leverett, Williamsburg and Lenox. As receiver in these communities have re-habilitated more than two dozen blighted properties and in doing so worked closely with the City's Code Enforcement and Building Departments.
As the care taker of your property we understand how important it is to have good documentation and record keeping. We are continually improving and investing in systems to provide time stamped photo documentation of all work done on site and both our office and maintenance staff utilizes sophisticated property management software to track and document maintenance requests and orders.
Who We Work For
We manage property for everyone from homeowners looking to rent or maintain their beloved homes to large landlords with portfolios in excess of 100 units who benefit from the co-operative work environment in our office. We have excellent systems to manage and maintain vacant properties for banks and municipalities including the City of Springfield's portfolio of tax title properties. Our commercial clients find the speed and quality of service ideal for satisfying the high demands of their business. Whether you are a homeowner, landlord or commercial property owner you should talk to us first about your maintenance and grounds keeping needs.